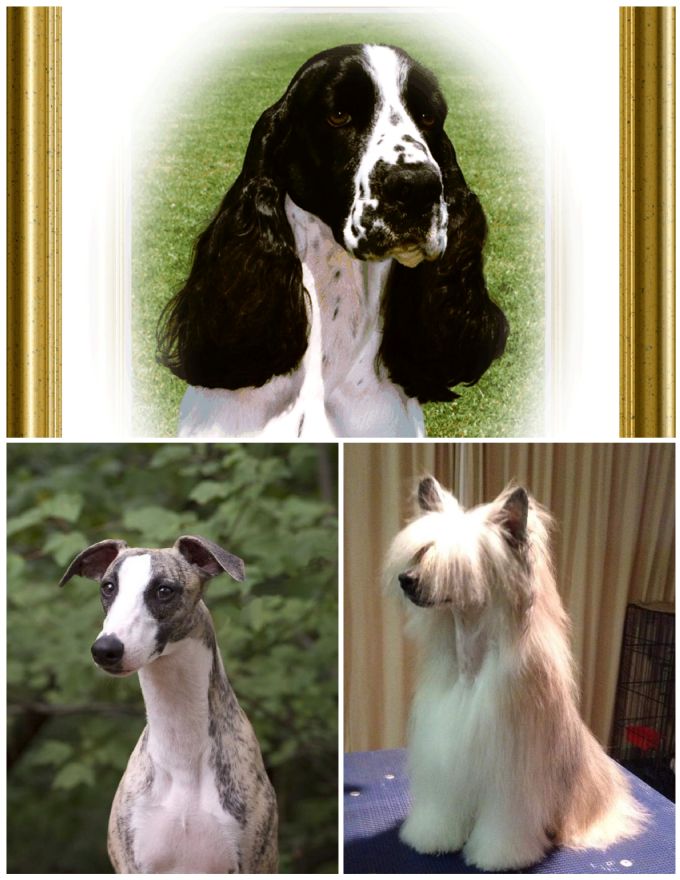 ENGLISH SPRINGER SPANIEL SPECIALIST JUDGE
FAIRSKY KENNELS EST. 1976
THE LOVE OF DOGS SINCE I WAS A LITTLE GIRL, I STARTED SHOWING OUR FIRST BREED ENGLISH POINTERS in 1976 , I ONLY HAD 2 LITTERS THE SECOND WHICH WAS MATED TO CH DUFFTON SUILEMAN THAT HAD ALL THE DAVIAM LINES BEHIND HIM FROM THE UK AND THIS PRODUCED A GORGEOUS GIRL. UNFORTUNATELY SHE HAD CANCER AND BY THE AGE OF 12 MONTHS I LOST HER. BROKEN HEARTED I DECIDED TO GET ANOTHER BREED AND I HAD SEEN A LOVELY ENGLISH SPRINGER, CH. HAWKHILL CREPELLO (IMP UK) AND DECIDED THIS WAS THE DOG FOR ME. I FOUND A LITTER THAT WAS BORN IN 1979 AND BOUGHT MY DOG CH SPRINGLEA ARGYLE SWORD, HE WAS A PROLIFIC WINNER OF MANY GROUP AND 2 RUNNER UP BOB AT MELBOURNE ROYAL FROM PUPPY AND JUNIOR AND PUPPPY IN GROUP AT MELBOURNE ROYAL, HE WAS A FABULOUS DOG AND I WAS HOOKED ON THE BREED.
ALONG WITH MY DAUGHTER SHARON WE BRED AND SHOWED SPRINGERS FOR 33 YEARS SENDING SEMEN FROM OUR MULTIPLE BEST IN SHOW WINNING DOG CH FAIRSKY JACK THE RIPPER OVER TO EUROPE. JACK IS BEHIND DOGS INTERNATIONALLY AND IN AUSTRALIA TODAY. WE ALSO BRED MULTIPLE IN SHOW CH FAIRSKY HERCULE POIROT, HIS SISTER CH FAIRSKY ORIENT EXPRESS AND A LONG LINE OF OTHER BEAUTIFUL SPRINGERS.
OVER THE LAST 25 YEARS WE ALWAYS HAD A WHIPPET AND WHEN WE KNEW WE WERE COMING TO THE END OF THE SPRINGERS WE DECIDED TO IMPORT A WHIPPET FROM FESTIVAS WHIPPETS IN USA. ALTHOUGH OUR BOY FESTIVA'S HOT AS HELL WAS TOO BIG FOR THE SHOWS IN AUSTRALIA THAT DIDNT MATTER TO US, HE IS OUR BEAUTIFUL BOY AND WE LOVED WHAT HE SIRED.
ONE DAY 10 YEARS AGO I HAD A BREEDER HAND ME A DOG AND SAID TAKE ONE OF THESE HOME, IT WAS SO CUTE I COULDNT REFUSE, AS I WAS GETTING OLDER AND COULDN'T RUN AS WELL AND SHARON HAD TAKEN A DIFFERENT DIRECTION IN LIFE I THOUGHT WHY NOT THIS BREED. IT WAS A CHINESE CRESTED, I AM SMITTEN, MY HUSBAND AND I LOVE THEM TO PIECES, INTELLIGENT, LOVABLE, GREAT FRIENDS AND LOOK OUT THE CORNER OF THEIR EYES AT YOU WHILE NOT LOOKING. A BEAUTIFUL BREED ALSO, I HAVE BEEN VERY LUCKY.
Contact Details
Marg Johnson (Trask)
Kyabram VIC Australia
16438 Visitors